Our fundraising efforts for August involve helping former BF member, Christer Bergus, as he continues to serve YWAM. Christer was an intern at Believers Fellowship a decade ago before joining YWAM, where he now trains missionaries in Kona, HI. To donate electronically, select YWAM from the designated funds on our Giving Page or by using the Church Center app. If you write a check, include YWAM in the memo line. If you would like to support Christer further, please see his contact info below.
About YWAM
Youth With A Mission (YWAM) is the largest international and interdenominational missionary sending organization. Begun in 1960, it has since grown in the past 60 years to train over 50,000 short term workers each year. The last estimate of long-term full-time staff in YWAM averaged 35,000 globally, with missionaries present in over 190 nations. Training is held in over 60 languages worldwide, training believers in various aspects of discipleship, worldview and Biblical studies, to name a few. YWAM is focused on evangelism, training and mercy ministries. Their primary focus has been the fulfillment of the Great Commission (Matthew 28:18-20), faithfully sharing the gospel with those who do not know Christ. YWAM also trains those who come to know Christ or already do, and serves local peoples through mercy ministries.
YWAM's training arm is the University of the Nations. They use a unique modular style education that trains students in a particular field of study, with opportunities for direct application of knowledge through field assignments/short term outreaches. These often lead to longer term commitments in various nations.
About Christer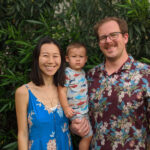 Since 2009 Christer has served Youth With A Mission (YWAM) full time, staffing Discipleship Training Schools (DTS), serving Kona's local churches, and recently leading Biblical training for the YWAM campus in Kona, Hawaii. Miji has been with YWAM since 2011 when she did DTS in Sweden. She and Christer were married in June 2016 and have continued with YWAM full-time. Miji has been involved with overseeing training of school leaders, being involved with the worship department and recently part of the Biblical studies department.
In 2017-Spring 2018, Christer and Miji helped pioneer the first School of Biblical Studies (SBS) with YWAM in Cambridge, England. SBS is a 9-month Inductive Bible study course designed to prepare missionaries for the mission field with a comprehensive understanding of the entire Bible, how to study it and how to apply it into ministry. In the winter of 2020, they had the privilege of relaunching the SBS with the YWAM base in Lausanne, Switzerland. They currently work full time in Kona, Hawaii with SBS. Christer leads the SBS each year in Kona, training an average of 30-40 missionaries for their work abroad. Most recently students have gone to work in the universities of the USA, the mountains of Nepal and the bustling metropolises of China and Korea. Currently missionaries are being trained to go long-term to Mongolia, Colombia, Morocco, and Norway.
Christer and Miji are committed to continuing with Biblical studies in YWAM and to see the end of Bible illiteracy among Christians throughout the world for as long as they can. If you would like to know more about Kona, YWAM, SBS or their future, please contact Christer at: christerbergus@uofnkona.edu
Blog and Media (teachings and videos) 
WordPress: https://christerandmiji.wordpress.com/
YouTube Channel: https://www.youtube.com/channel/UCbNBk71BvZgdpCrglcPTO1A?view_as=subscriber
YWAM Kona: https://ywamkona.org/uofn_courses/school-of-biblical-studies/
If you would like to support Christer further, please us the links below.
Tax deductible: https://ywamkona.org/donate/missionary/?id=5547
PayPal: paypal.me/ChristerB
Checks Payable to: "University of the Nations" (Memo Line: Christer Bergus 5547)
Mail Checks to:
University of the Nations
Attn: Donor Processing
75-5851 Kuakin Hwy
Kailua-Kona, Hawaii 96740