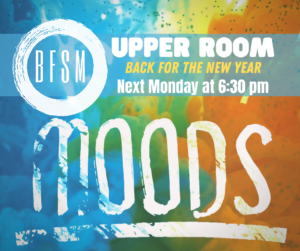 We have officially moved our Upper Room Nights to Mondays! That means no more Thursday nights, but more space for students and live-streaming down the road. This space makes a huge difference for students looking for a place to learn about God and see friends! So, join us for Upper Room on Monday nights from 6:30 – 8:30 pm. And make sure to subscribe to our YouTube channel: Believers Fellowship Students Ministries, and our Facebook page for when we have our live streaming up and running!
Middle School Students meet during our 2nd service (11:00 a.m.) at Believers Fellowship. When you sign up for services you can register your middle school students as well, just like children's ministry. But you'll want to do that early because we will only have 30 spots for Sundays. Use the link on the top menu or go directly to the registration page by clicking or tapping here.
We are so excited to be meeting back up and are praying for a great year of ministry amidst unique circumstances.
---
Digital Places – Click or tap on the links below.
Pie Fund Raiser
This summer's mission trip students will be selling Plush Pippin Pies just in time for Easter! Don't miss out on these delicious, fresh, locally made pies. You can purchase a 12" lattice apple or 8-9" fruit pie. If you are so inclined, you may donate a pie to our local FISH Food Bank as well.
Pies go on sale Sunday, 3/14 (Pi Day!), and can be purchased online or from a student. If you purchase directly from a student, the pies are delivered to your home. If you order online, plan to pick up your pies on Friday 4/2 at BF between 3-4 p.m. Orders can be placed online here.
Special Events
A few times a year we plan an event that will rock your face off. The event may be intended to bring you closer to God. Sometimes the special event brings you closer to your friends. And sometimes the event brings you closer to your community while you serve those around you. These events sometimes cost money, and usually require a special consent form signed by parents. So if you are interested in coming to a special event you see on the calendar, it is a good idea to meet us at one of the regular weekly events first.
Upcoming Events
June 17-20
The BFSM team is working diligently to put together the mission trips for summer 2021. The Middle School Family Missions Trip (MSMFT) is scheduled for June 17-20th. We are making the necessary adjustments to remain socially distanced (i.e. each family will drive themselves to serve sites that are outdoors and have their own private suites at the camp). Register at
msfmt2021.pushpayevents.com
.
It goes without saying that we will do our part to keep our students and families safe. We will cancel if necessary in time for full refunds. Please be in prayer, we are hopeful to serve God's people this summer!
---
Helpful Links