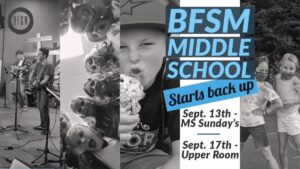 BFSM MIDDLE SCHOOL IS BACK FOR THE FALL
Middle School Students meet during our 2nd service (11:00 a.m.) at Believers Fellowship. When you sign up for services you can register your middle school students as well, just like children's ministry. But you'll want to do that early because we will only have 30 spots for Sundays.
Upper Room follows suit and begins our Fall series on Thursday evenings from 6:30 p.m.-8:30.p.m.
We will be meeting at Believers Fellowship outside on the parking lot much like we did this summer. We are going to be meeting outside for Upper Room as long as we can so that we can stay safe with more students!
We are so excited to be meeting back up and are praying for a great year of ministry amidst unique circumstances.
Mail Chimp (of course you already get this) (possibly others)
Special Events
A few times a year we plan an event that will rock your face off. The event may be intended to bring you closer to God. Sometimes the special event brings you closer to your friends. And sometimes the event brings you closer to your community while you serve those around you. These events sometimes cost money, and usually require a special consent form signed by parents. So if you are interested in coming to a special event you see on the calendar, it is a good idea to meet us at one of the regular weekly events first.
Upcoming Events
Helpful Links
Fall Calendar Coming Soon