Upper Room, our Middle School mid-week program, meets on Thursdays from 6:30 – 8:30 p.m.
Upper Room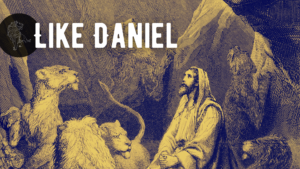 Join us for our January series called "Like Daniel." Upper Room meets Thursday nights 6:30 – 8:30 pm.
Sundays
This is an opportunity for Middle School Students to connect with each other on a Sunday morning, and hear a message designed specifically for where they are as young teenagers! The 40 minutes are filled with creative teaching, break out groups and the occasional ice-breaker! So come on upstairs when the kids are released during the 2nd service!
Please note: We ask that you please take your student's temperature before our in-person events. Please keep your student home if they have a fever of 100.4 or higher, a cough, sore throat, shortness of breath, muscles aches, nausea/vomiting/diarrhea, congestion/runny nose. If anyone else in the household has those symptoms (within the past 3 days) or if your child has been in contact with anyone suspected or confirmed to have COVID-19, please stay home.
Special Events
A few times a year we plan an event that will rock your face off. The event may be intended to bring you closer to God. Sometimes the special event brings you closer to your friends. And sometimes the event brings you closer to your community while you serve those around you. These events sometimes cost money, and usually require a special consent form signed by parents. So if you are interested in coming to a special event you see on the calendar, it is a good idea to meet us at one of the regular weekly events first.
Upcoming Events
June 23 – 26 Middle School Family Mission Trip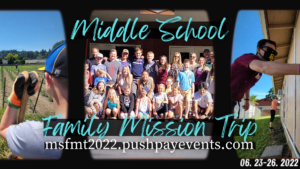 The Middle School Family Mission Trip is by far our favorite event! Each year the opportunity to serve locally in Seattle, Tacoma and surrounding areas continues to grow. God has been faithful in providing opportunities that allow us to serve alongside our families. It's awesome to see parents teaching their children the importance of serving God's people and modeling what it looks like to talk to people about Jesus.
We will be staying in a camp environment with the luxury of hotel-style rooms that each family can stay together with their own private bathroom. After serving and doing outreach, we will strengthen our own community with worship, teaching, and family fun activities such as indoor rock climbing, repelling, gaga ball, zipline, etc.
We are aiming to have more families join this year. We are expecting somewhere around 75 people this summer! But please know we will be adhering to any COVID guidelines during the time of the event. Families are responsible for their own transportation (Black Diamond is only 40-50 mins from Gig Harbor), but you can absolutely coordinate with other families to carpool (keep in mind we also ride together to the serve sites during the day).
The cost of this trip is $98 per family member which includes two nights stay, all meals, and activities. You can reserve your spot today with a $50 deposit for each family member. The cost of this trip remains low because of our Gala auction!
Lastly, we have some important training and payment dates we want you to put on your calendar. All-Team Trainings are on Sundays 12:15 p.m.- 2:00 p.m. Please bring a lunch.
IMPORTANT DATES:
Team training and final payments due: June 5
July 25 – 29 Black Diamond Summer Camp 2022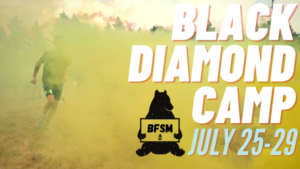 Last summer students had a blast being back at camp whether it was ziplining through the trees or doing 360s on drift-trikes or dancing on the upper field at Black Diamond.
We are absolutely looking forward to what God has in store for our students this summer at Black Diamond.
Group camp will be July 25-29th, the last week of July this year. The price per student will be $349 Sign up quick for chances to win prizes before camp for your student! If your student is in need of a scholarship please let us know and we can discuss what options we have.
Use the link below to register. Please note: You will need to fill out the warm beach ministries portion of this sign-up as well. A link is available on the camp registration page.