Hello BFSM Families! 
I'm excited to let you know that we are going to start posting stuff digitally for students to connect, grow, and be discipled during this challenging time where we can no longer meet in person for the time being. We will be posting through various platforms to reach your students and connect with you on a weekly basis. Here is a list of the different platforms in which we will be posting weekly, so please subscribe, and become familiar with all of these! This is a learning process for all of us so bear with us as we troubleshoot these programs! But I think it's going to be really fun once we become acclimated.
Daily Devotionals
Digital Options
Mail Chimp (of course you already get this) (possibly others)
Schedule
So here is our desired schedule and game plan going forward for Middle School Ministry (subject to change). Weekly, we will be going live or posting a message on our YouTube channel and our Facebook page Thursdays as usual for Upper Room. The message will be shorter and I'm hoping to give you some sort of link or download for "at home" devotionals.
I have tasked my student leaders in High School for now to make funny viral videos your students can watch before the message (we usually have students play a game or icebreaker to get them involved).
Small Groups
For small groups and connecting leaders with students, we are going to use platforms like Marco Polo to interact with small groups! Marco Polo is ideal because you, as the parent, can re-watch things sent between leaders and students as opposed to a Facetime format where nothing is recorded. And Marco Polo is ongoing, hopefully making it easier for leaders to connect with students over the whole week by praying for them, asking questions, and checking in on them.
Sundays
In Closing
Please let us know if there are any great ideas you may have as a parent during this time! Also, reach out if there is any way in which we can help you guys… I know it's an incredibly trying time for so many! We are still the church and still called to love like Jesus. Please be in touch and make the most out of your forced time at home. I am fervently praying for all of you and we will keep you up to date with what's changing for us!
Special Events
A few times a year we plan an event that will rock your face off. The event may be intended to bring you closer to God. Sometimes the special event brings you closer to your friends. And sometimes the event brings you closer to your community while you serve those around you. These events sometimes cost money, and usually require a special consent form signed by parents. So if you are interested in coming to a special event you see on the calendar, it is a good idea to meet us at one of the regular weekly events first.
Upcoming Events
June 18-21 Middle School Family Mission Trip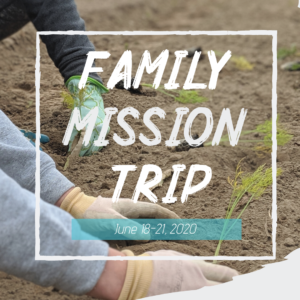 The Middle School Family Mission Trip is by far our favorite event! Each year the opportunity to serve locally in Seattle, Tacoma and surrounding areas continues to grow. God has been faithful in providing opportunities that allow us to serve alongside our families. It's awesome to see parents teaching their children the importance of serving God's people and modeling what it looks like to talk to people about Jesus.
We will be staying in a camp environment with the luxury of hotel-style rooms. Each family stays together with their own private bathroom. After serving and doing outreach, we will strengthen our own community with worship, teaching, a fun, family pool party, climbing walls, basketball, gaga ball, zipline, etc.
In order to defer cost for this trip, we require all attendees to participate in the BFSM Gala that will be held on March 6th. We will be sending out reminders for planning meetings, decorating parties, and the event setup and cleanup! Don't forget to gather your (2) auction baskets per student, due on Feb 16th! Thank you for choosing to join us on this adventure. We can't wait to see how God will work in your family.
June 7: Final payment due, mandatory mission trip team building and training.
Registration for the mission trip is now closed.
Helpful Links