We are back! Upper Room, our Middle School mid-week program, meets on Thursdays from 6:30 – 8:30 p.m.
Upper Room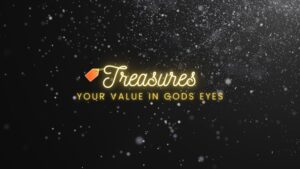 Join us for our December series called "Treasures" where we will be discussing our value through God's eyes. Luke 12:7 says, "Why, even the hairs of your head are all numbered. Fear not; you are of more value than many sparrows." I struggled with God's perception of value in middle school. I didn't think I was good for anything, I had an awkward view of myself, and often saw myself as unlovable. That was so far away from the truth of scripture God presses on us! The hope of this series is simply to discuss the ways God values our students and to have them walk away feeling loved by Him. Upper Room meets Thursday nights 6:30 – 8:30 pm. We will only be meeting Dec 2nd, 9th, and the 16th, so don't miss out!
Sundays
This is an opportunity for Middle School Students to connect with each other on a Sunday morning, and hear a message designed specifically for where they are as young teenagers! The 40 minutes are filled with creative teaching, break out groups and the occasional ice-breaker! So come on upstairs when the kids are released during the 2nd service!
Please note: We ask that you please take your student's temperature before our in-person events. Please keep your student home if they have a fever of 100.4 or higher, a cough, sore throat, shortness of breath, muscles aches, nausea/vomiting/diarrhea, congestion/runny nose. If anyone else in the household has those symptoms (within the past 3 days) or if your child has been in contact with anyone suspected or confirmed to have COVID-19, please stay home.
Special Events
A few times a year we plan an event that will rock your face off. The event may be intended to bring you closer to God. Sometimes the special event brings you closer to your friends. And sometimes the event brings you closer to your community while you serve those around you. These events sometimes cost money, and usually require a special consent form signed by parents. So if you are interested in coming to a special event you see on the calendar, it is a good idea to meet us at one of the regular weekly events first.
Upcoming Events
January 21 – 23 Middle School Winter Camp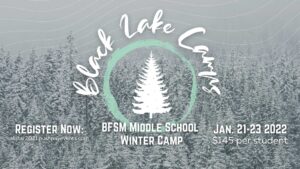 We are excited to announce this year's Winter Camp for BFSM Middle School! We are going to All Star Camp at Black Lake Bible Camps! It will be a three-day, middle school-focused weekend with guest speakers, worship, and some super fun activities all centered around growth towards Jesus. All Star Camp is January 21st-23rd and the cost is $145 per student. Parents are responsible for drop off and pick up or finding someone to car pool with. Black Lake is only a 50 minute drive from the Harbor. Use the link below for more info and to register.
Feel free to call or email with any questions in regards to this event!