 Sundays
We want our high school students to have a sustained relationship with God, even after graduation. In order to help them have a better involvement in the wider church body and to reduce post-high school drop off, students stay in the church for teaching time on Sunday.
Wednesdays: Connections
On Wednesday nights during the school year, we come together for dinner, worship, a short message, and small groups. We have opportunities each week to connect with other students, adults that care about students, and God. Come on out to Connections and meet us there! Every Wednesday night from 6:30-8:30.
The final summer Bible study is August 7, from 7:00 – 8:30 p.m.
Special Events
A few times a year we plan an event that will rock your face off. The event may be intended to bring you closer to God. Sometimes the special event brings you closer to your friends. And sometimes the event brings you closer to your community while you serve those around you. These events sometimes cost money, and usually require a special consent form signed by parents. So if you are interested in coming to a special event you see on the calendar, it is a good idea to meet us at one of the regular weekly events first.
Upcoming Events
July 29-August 2: Move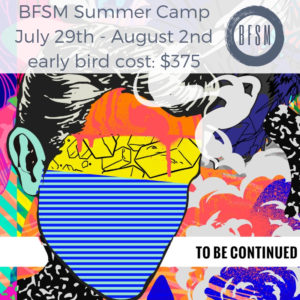 Believers Fellowship summer camp is going to MOVE! Last day to sign up is July 22!
At MOVE Students are challenged through intense, interactive worship, dynamic preaching, small group study and community building. MOVE is more than just another conference or camp – it's an experience! Because we are new to the MOVE, here is a site that explains more about them! https://new.ciy.com/move/new-to-move
This year's theme is called "to be continued" and will explore the life of Elijah and help students understand that they:
ARE CALLED INTO THE STORY OF GOD.
CAN TRUST THAT GOD CAN PROVIDE BECAUSE HE IS REAL.
WILL FIND PURPOSE WHEN GOD SENDS THEM TO REACH OTHERS.
WILL CONTINUE AS GOD'S SPIRIT EMPOWERS AND HIS MISSION ENDURES.
BFSM is very excited to see what will happen at this five day camp…conference. This five day CAMPFRENCE!
We stay at Oregon State University, and will utilize the campus for meals, fun, and life change.