 Sundays
We want our high school students to have a sustained relationship with God, even after graduation. In order to help them have a better involvement in the wider church body and to reduce post-high school drop off, students stay in the church for teaching time on Sunday.
Wednesdays: Connections
On Wednesday nights during the school year, we come together for dinner, worship, a short message, and small groups. We have opportunities each week to connect with other students, adults that care about students, and God. Come on out to Connections and meet us there! Every Wednesday night from 6:30-8:30.
Special Events
A few times a year we plan an event that will rock your face off. The event may be intended to bring you closer to God. Sometimes the special event brings you closer to your friends. And sometimes the event brings you closer to your community while you serve those around you. These events sometimes cost money, and usually require a special consent form signed by parents. So if you are interested in coming to a special event you see on the calendar, it is a good idea to meet us at one of the regular weekly events first.
Upcoming Events
March 6 BFSM Gala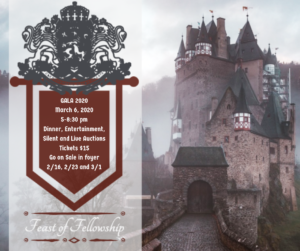 Here Ye, Here Ye…
Let it be known that on the sixth day of March in the year of our Lord two thousand and twenty, there shall be a gala held at Believers Fellowship Hall. Your house is called upon to make a difference!
Tickets go on sale for $15 in the main foyer 2/16, 2/23 and 3/1.
Click or Tap here for all the Gala details.
July 11-18 HS Mission Trip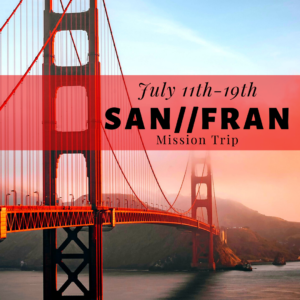 This summer, our BFSM High School ministry team will be taking students on an inner city missions trip to San Francisco. It will be a 2-day drive down and back and we will stay at a church in the heart of San Francisco. We will be working with an organization that has built relationships which gives us the opportunity to come alongside and serve God's people where they are at! If you have a heart to serve or feel God calling you to this trip, we'd love to have you. We have some important training and payment dates we want you to know about. Signup today with a $50 deposit to hold your spot. Total trip cost will be approx. $650.
Important Dates:
February 16- Auction items/baskets due! Mandatory Work Party at BF from noon – 3:00.
March 6 – Gala Event
May 17th- Training and $200 payment due
May 31st- Training and $200 payment due
June 28th-Training and $200-300 payment due (wont know final amount until after GALA)
July 10th-  All-family prayer and sendoff BBQ at BF, 6pm.
In order to defer cost, you are required to participate in the GALA, March 6th. The GALA is an awesome event that helps raise half of the cost for you to go on this trip. There will be (2) auction items/baskets required per student. You will also help by participating the night of the event with decor, setup and cleanup. Baskets will be due Feb 16th so don't wait! Please stop by BF and ask for your Gala Packet which has merchant letters, a script of what to say and auction basket forms for you to fill out and turn in with your items. If you have questions, please contact Johnny Pearson at johnny@believersfellowship.net or Jen Bonham at jen@believersfellowship.net. We are excited to have you on the missions team and see what God will do in San Francisco this summer!
Registration for the mission trip is now closed.
Helpful Links