 Sundays
We want our high school students to have a sustained relationship with God, even after graduation. In order to help them have a better involvement in the wider church body and to reduce post-high school drop off, students stay in the church for teaching time on Sunday.
Wednesdays: Connections
On Wednesday nights during the school year, we come together for dinner, worship, a short message, and small groups. We have opportunities each week to connect with other students, adults that care about students, and God. Come on out to Connections and meet us there! Every Wednesday night from 6:30-8:30.
Special Events
A few times a year we plan an event that will rock your face off. The event may be intended to bring you closer to God. Sometimes the special event brings you closer to your friends. And sometimes the event brings you closer to your community while you serve those around you. These events sometimes cost money, and usually require a special consent form signed by parents. So if you are interested in coming to a special event you see on the calendar, it is a good idea to meet us at one of the regular weekly events first.
Upcoming Events
June 29-July 7: Mexico Mission Trip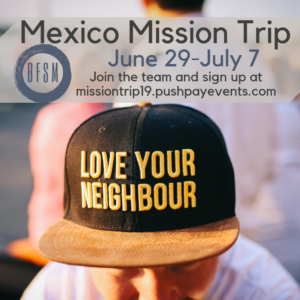 Every other year we get a chance to partner with a ministry that makes a difference year round! We go to Ensenada to help them in any way we can, making Jesus known throughout Mexico!
Aqua Viva Ministry pairs us with a community where we put on a VBS, do light construction, and sports ministry! We also help out around their HUGE ranch. On the ranch is a year-round seminary where pastors are trained and equipped, as well as cabins and traditional "camp" for Mexican youth. They are doing a lot of amazing ministry!
We serve in the day, and we worship and team-build at night! We love the community aspect of this mission trip, and we always come back feeling closer to God and to each other.
Register using the link below with a deposit of $175. Registration closes on January 20th. It is required that you participate in the BFSM Gala, so mark your calendar for March 8th. Pick up your Gala packet from the student ministries desk so that you can gather your (2) auction baskets and sign up to help! This will help offset the cost of the trip, which we anticipate to be around $850 per student. Passports are also required (No Enhanced IDs)!
Register for the Mexico Mission Trip Here