Our Believers Fellowship app has gone through a major update. It is now available in the App Store and on Google Play. If you have downloaded the BF app in the past, it will automatically update when you open it. If you don't have it yet, you can search for "Believers Fellowship" in either the Apple or Google stores to get it.
What's New?
You will immediately notice the new Home screen. It's cleaner and easier to navigate. The major headings (Welcome, Connect, Media, Bible, Events, and Find Us) are big and bold. It's also easier to scroll down to see them all.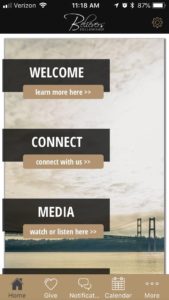 We encourage you to spend some time exploring the new app by tapping on the major headings and the icons at the bottom. Here's a brief rundown on what you'll find.
The Details
Welcome: This is just a brief introduction to our church. It includes a link to the video on our webpage.
Connect: There is lots of information here. Connect Card lets new people share a bit about themselves or those who've been around can update their directory information. Prayer Request is an easy way to ask that your prayer gets shared on our prayer email list. (You can also email your requests to prayer@believersfellowship.net.) Ministries lists a little about the general ministries we have here at BF. Staff lists all the people who work full or part-time at the church in paid or unpaid positions. Social Media has links to our social media pages.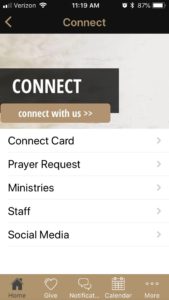 Media: This has links to our media pages.
Bible: By tapping on this link, you will open up to the page in the Bible we are teaching about this Sunday.
Events: This is a direct link to the Upcoming Events page on our website.
Find Us: This has detailed contact information about the church along with service times and office hours.
At the bottom, you'll find a quick navigation bar that will show up on every screen. There are icons for Home, Give, Notifications, Calendar and More. You can always hit the Home icon to get back from any screen. The Give icon is for using Pushpay to donate to the church or a designated fund. The Notifications page contains a list of any push notifications that we send out. Calendar is our public calendar so that you can see what is going on during the week. If you tap on More, you will find links to our Privacy Policy and Notification Categories. The latter allows you to select which push notifications you want to receive, if any.
Feedback
We hope you find the new app an improvement over the old version. Let us know what you think by sending a message to webmaster@believersfellowship.net.