We are excited to announce the building of a new playground at Believers Fellowship. You may have noticed that we've cleared the area for "Moose Park" and construction has begun. (More on this below.) This park is being dedicated to Aaron Moss, a beloved member of our congregation who passed away in 2015 at a young age. Aaron loved children and his nickname was "Moose!" We have a display set up in the foyer with pictures of the new design. The elementary kids have already began fundraising for it!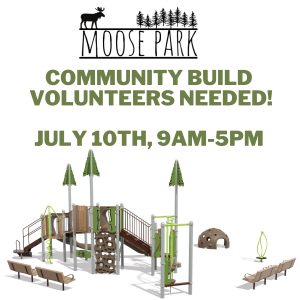 We're so excited to give our church family the opportunity to be a part of building Moose Park! We need all hands on deck (about 30 people) to build our playground. Please consider grabbing a couple of friends from your Life Group, Bible study, or folks sitting next to you in church and come out to build! You don't need any special skills. Experienced people will be on site to help. Register here.
If you would like to help fund the new playground, you can give online or through our app by choosing "Moose Park Playground" as the fund. If you give by check, write "Playground" in the memo line. Contact Heidi Kempston or Matt Edwards if you have any questions about the new playground.
To learn more about Moose Park, watch the videos below.