We are making a change in our electronic giving beginning in May. We are transitioning from Pushpay to a new way of giving using Planning Center Online (PCO).
A brief PCO History
As you are probably aware, we have added several components of PCO over the last few years. We have been using PCO Services for a long time to schedule Sundays for our worship team. We added other volunteer groups to Services who have duties on Sundays to help us stay organized each week. When it came time to add an electronic check-in system for Children and student ministry, we added PCO Check-ins. This system has added an additional level of security to keep our children safe.
Lately, you have been getting used to joining PCO Groups and using PCO Registrations to sign up for events. Some of you might miss the old sign-up sheets scattered throughout the foyer. However, many of you appreciate the ease of being able to sign up for a group or event from anywhere, including the comfort of your home. The staff and group leaders are relieved that they no longer have to decipher handwriting!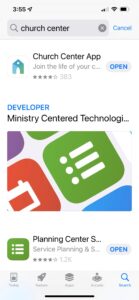 Church Center
To tie everything together, we are encouraging everyone to use Church Center to access information and sign up for groups or events. There is a Church Center app that you can download from Apple's App Store or Google Play. (If you don't want to download the app, you can use the web version.) Church Center is not unique to Believers Fellowship so you will have to select our version after downloading the app. It's usually the first one that pops up but if you remember our name, you won't have a problem. Need step-by-step directions? Download the iOS version or Android version.
PCO Giving
The big news is that we have added PCO Giving as a new way of giving at Believers Fellowship. We think you will find it just as easy to give as using Pushpay and there are several advantages that we will explain along the way. You can use PCO Giving right now by visiting our Give page here on our website, by using the Give link on Church Center or by texting a giving amount to 84321. Once you register, giving will be quick and easy.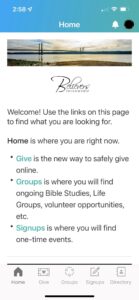 You will have the same options as before. You can use a credit or debit card or sign up for ACH using your bank account. In addition, you can also use Apple Pay in some cases. Once you select Give, choose a dollar amount, a fund, and select a one-time or recurring gift. If you want to cover the processing fees, there is a box to check for that. That's it!
One big advantage of making the switch to PCO Giving is the reduced cost to Believers Fellowship. We will save thousands of dollars a year and we will reduce our per transaction cost. You will also be able to log into your PCO Giving account and see a record of your giving at any time. Just tap or click on your picture or initials on the top right of the app and you can access all kinds of information.
One disadvantage of making this switch is that our BF app will go away. We are working on updating the Church Center app to make it as useful as the old version. The old BF app won't be updated after May 1. Pushpay will still work during this transition period in May, however, you will need to switch to PCO Giving after May 31. Recurring givers should make the change as soon as possible in order to stop Pushpay and add PCO Giving.
Need Help?
If you need a little extra help with this change, we will have staff at the Welcome Desk throughout the month of May to assist you. You can also call the church office during regular business hours or email Steve DePaul.
If you would like to view a sample video of how PCO Giving works, check this one out.