Would you like to be a part of the 2016 short-term trip to Ushpa Ushpa, Bolivia? Everything that you need to know is right here in the 2016 Information Packet. The deadline to submit your $200 deposit is January 10, 2016!
This year is the seventh of a ten-year relationship between Believers Fellowship and Ushpa Ushpa through Food for the Hungry (FH). Each year, we send a short-term team and complete a project in the community. In addition, we sponsor about 230 kids there through FH.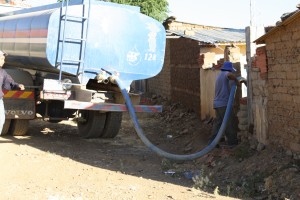 This year's project is the construction of a water tower. Access to clean water is a challenge in Ushpa Ushpa. Most people rely on a travelling water tanker truck for their water, but in a 2010 study 100% of the household water tested positive for coliform bacteria. This leads to a number of health problems (potentially lethal in children under 3). In 2011, we spearheaded a clean water initiative in the community and provided 190 households with water filters. This year's project will expand access to clean water to even more people in the community.
While the project is an important part of our relationship with Ushpa Ushpa, the short-term trip focuses more on building relationships with local churches, leaders, and the families of children sponsored through FH. If you sponsor a child in Ushpa Ushpa, you will get to meet him or her!
If you join us in July 2016, expect a lot of laughs and maybe even a few tears. But most of all, expect to encounter God. There is something about stepping out of your comfort zone and into ministry to those on the margins that really opens your heart to what the Spirit is doing. I promise that if you come, you will not return home the same.
To be a part of the team, contact Matt Edwards at matt@believersfellowship.net or attend the interest meeting on Sunday, December 13.
Check out a short video about our 2015 trip: